Indian Premier League IPL 2021 Auction: With the IPL 2021 auction line up on Thursday, the franchises are fastening through their permutations and combinations to tweak or top-up their squads in a bid to boast the strongest squad among all eight teams. The IPL 2021 will witness 292 players (164 Indian, 125 overseas, and 3 associates) going under the hammer, with certain players already on the list of several franchises. The much-anticipated 14th season of the Indian Premier League (IPL), beginning from April this year.
Former Kolkata Knight Riders (KKR) captain Gautam Gambhir reckons that 'he probably could be the next Andre Russell in the making,' talking about New Zealand's flamboyant all-rounder Kyle Jamieson. When all the talk is around Maxwell, Harbhajan, Smith, Shakib among others, the former Indian southpaw's attention is on a promising young bowler, who has all the potential of being the next big prospect at the upcoming IPL 2021 auctions, kick-start from tomorrow onwards.
Having a strike rate of over 100 in all three formats, Kyle Jamieson has created waves in New Zealand's domestic cricket circuit. His ability to pick up wickets with the new ball as well as the old one, coupled with his power-hitting abilities, makes him a hot pick in the auction. Undoubtedly, he will be in demand at the upcoming player auction ahead of IPL 2021.
Also Read: IPL 2021 Auction: Date, Time, Purse value, and Live-streaming details
"Kyle Jamieson is not a big name at the moment, but he will turn out to be a superstar. This is probably the right auction for all franchises to get a hold of him. And because he is someone whom you can keep for a longer period of time. He is seven feet… he is that tall. He can bowl 140 and can hit the ball long," Gambhir said on Star Sports Show.
"Yes, he's not a finished product and everyone knows about it, but is someone who is probably young and you can have that core built around him. A franchise like Kings XI (Punjab Kings) who are looking for that allrounder or some other franchise, they can think of someone like Jamieson."
"Even Sunrisers, because he is someone who can bowl with the new ball, and can bat at No. 6 and 7 and can hit the long ball against spin and fast bowling. He's a great asset and he's going to get better from here," added Gambhir.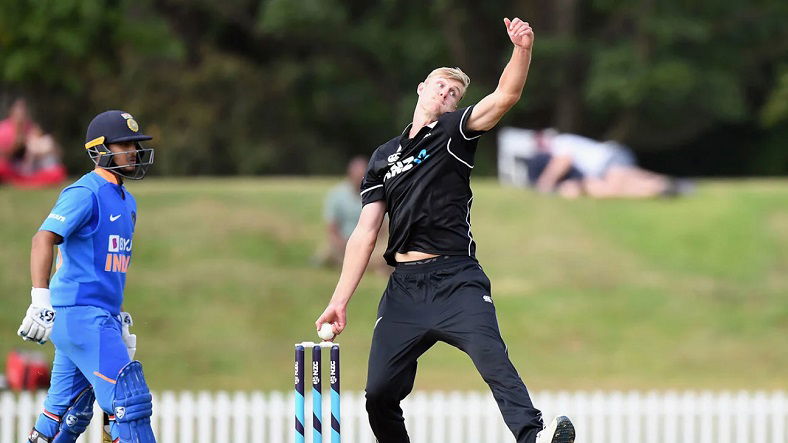 The seven-foot-tall Kiwi pacer has played six Tests, two ODI, and four T20Is since making his international debut against India in February 2020, where he grabbed 4/39 including the big wickets of Pujara, Kohli, Rahane, and Hanuma Vihari. Moreover, Jamieson has notched 44 runs as well.